Bitumen
Bitumen is a mixture of organic liquids that are highly viscous, black, sticky, entirely soluble in carbon disulfide and composed primarily of highly condensed polycyclic aromatic hydrocarbons.
Bitumen is the residual fraction obtained by fractional distillation of crude oil.
It is the heaviest fraction and the one with the highest boiling point. Bitumen is primarily used for paving roads.
Its other uses are for general waterproofing products including the use of bitumen in the production of roofing felt and for sealing flat roofs.
It is also the prime feed stock for petroleum production from tar sands. It is a black, thermoplastic product which has a viscosity that varies with temperature. It is solid at ambient temperatures, but when heated at a temperature higher than 120°C, it can be pumped, carried and used.
Pure or modified, fluxed or emulsified, its properties of adhesivity, cohesion, elasticity, waterproofing and its rheologic properties makes it a perfect material for road construction and industrial applications. Bitumen is obtained by the refining of selected crude oils.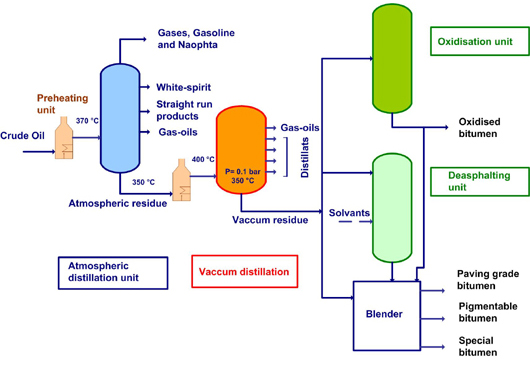 Bitumen is obtained by the refining of selected crude oils.
Among the 1300 crude oils in the world, only 10% can give bitumen that comply with European standards and specifications. They are called bitumen crudes.
The different grades are obtained by mixing the heaviest fraction (bitumen bases) of the distillation products.
Processing by solvents (liquefied gases) of some bitumen bases, known as deasphalting, separates the raffinate (light fraction) from the deasphalting pitch which can be used to make special bitumen.
Blowing (thermal or catalytic oxidation of certain bitumen bases) gives bitumen with modified characteristics. These bitumen are suitable for industrial applications.
Bitumen grades 60/70, 85/100, 100/120, 40/50, 30/40, 50/70
We offer large variety of different grades of bitumen. This variety includes the following bitumen, all of which are according to the analysis and approved by S.G.S or any other inspection company.
BITUMEN 60/70
| | | |
| --- | --- | --- |
| SPECIFIC GRAVITY | 1.01-1.06 | D.70 |
| PENETRATION | 60/70 | D.5 |
| SOFTENING POINT | 49/59 | D.36 |
| DUCTILITY 25C | 109 MIN | D.113 |
| LOSS OF THE HEATING %WT | 0.2 MAX | D.6-D.68 |
| FLASH POINT | 250 MIN | D.92-D.5 |
| SOLUBILITY IN CS2 % WT | 99.9 MIN | D.4 |
BITUMEN 85/100
| | | |
| --- | --- | --- |
| SPECIFIC GRAVITY | 1.00/1.05 | D.70 |
| PENETRATION | 85/100 | D.5 |
| SOFTENING POINT | 45/52 | D.36 |
| DUCTILITY 25C | 100 MIN | D.113 |
| LOSS OF THE HEATING %WT | 0.5 MAX | D.6-D.68 |
| FLASH POINT | 225 MIN | D.92-D.5 |
| SOLUBILITY IN CS2 % WT | 99.5 MAX | D.4 |
BITUMEN 100/120
| | | |
| --- | --- | --- |
| SPECIFIC GRAVITY | 1.01-1.04 | D.70 |
| PENETRATION | 100/120 | D.5 |
| SOFTENING POINT | 42/49 | D.36 |
| DUCTILITY 25C | 100 MIN | D.113 |
| LOSS OF THE HEATING %WT | 0.2 MAX | D.6-D.68 |
| FLASH POINT | 250 | D.92-D.5 |
| SOLUBILITY IN CS2 % WT | 99.5 MIN | D.4 |
BITUMEN 40/50
| | | |
| --- | --- | --- |
| SPECIFIC GRAVITY | 1.01-1.06 | D.70 |
| PENETRATION | 40/50 | D.5 |
| SOFTENING POINT | 52/60 | D.36 |
| DUCTILITY 25C | 100 MIN | D.113 |
| LOSS OF THE HEATING %WT | 0.2 MAX | D.6-D.68 |
| FLASH POINT | 250 MIN | D.92-D.5 |
| SOLUBILITY IN CS2 % WT | 99.5 MIN | D.4 |
BITUMEN 30/40
| | | |
| --- | --- | --- |
| SPECIFIC GRAVITY | 1.01/1.06 | D.70 |
| PENETRATION 25 C | 30/40 | D.5 |
| SOFTENING POINT | 55-63 | D.36 |
| DUCTILITY 25 C | 100 min | D.113 |
| DROP IN PENETRATION AFTER HEATING | 20 max | D.6 & D.5 |
| LOSS ON HEATING % WT | 0.2 max | D.6 |
| FLASH POINT | 250 min | D.92 |
| SOLUBILITY IN CS2 % WT | 99.5 min | D.4 |
| SPOT TEST | NEGATIVE | A.A.S.H.O.T102 |
BITUMEN 50/70
| | | |
| --- | --- | --- |
| SPECIFIC GRAVITY@25/25°C | 1.01/1.06 | D.70 |
| PENETRATION @ 25° C | 50/70 | D.5 |
| SOFTENING POINT °C | 49-56 | D.36 |
| DUCTILITY @ 25°C | 100 min | D.113 |
| DROP IN PENETRATION AFTER HEATING % | 20 max | D.6 & D.5 |
| LOSS ON HEATING (WT) % | 0.2 max | D.6 |
| FLASH POINT °C | 250 min | D.92 |
| SOLUBILITY IN CS2 (WT)% | 99.5 min | D.4 |
| SPOT TEST | NEGATIVE | A.A.S.H.O.T102 |
Packing:
| | | |
| --- | --- | --- |
| | | |
| Bulk by vessel | Drum | |
Dimension of drums which are made in new steel drums as follows:
| | | | |
| --- | --- | --- | --- |
| Height | 860 mm | 920 mm | 980 mm |
| Diameter | 500 mm | 500 mm | 500 mm |
| Body Thickness | 0.6 mm | 0.7 mm | 0.7 mm |
| Top/Base Thickness | 0.6 mm | 0.6 mm | 0.6 mm |
| Net Weight | 152 +/- 3 Kgs. | 170 +/- 2 Kgs. | 180 +/- 4 Kgs. |
| Gross Weight | 162 +/- 5 Kgs. | 180 +/- 3 Kgs. | 190 +/- 4 Kgs. |
Base Oils